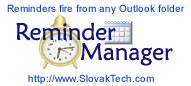 Extended Reminders enables you to get reminders on items in any email, contacts, tasks or calendar folder in your default mail store except the Outbox and Deleted Items folders.
It works with Microsoft® Outlook® 2000 (corporate or workgroup mode only), Outlook 2002 and Outlook 2003, and with Exchange mailboxes or PST files. Extended Reminders does not work with Outlook 2000 running in Internet only mode.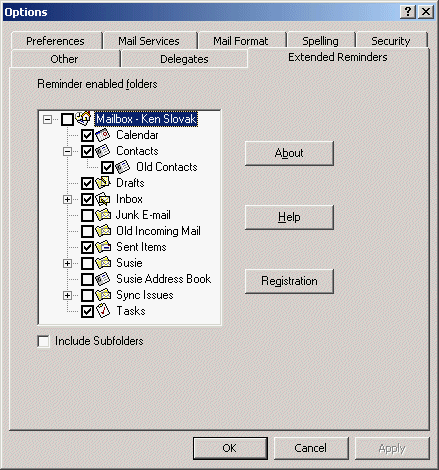 Extended Reminders Property Page
To open the Extended Reminders property page select the Tools menu, then select Options and go to the Extended Reminders tab. Folders are enabled for reminders by checking them, and disabled as custom reminder enabled folders by unchecking them. To enable or disable subfolders of a folder in one step by checking or unchecking the parent folder of the subfolders, check the Include Subfolders checkbox and then check or uncheck the parent folder.
The Registration button is used to purchase Extended Reminders and obtain a license key that converts the 30-day evaluation version of Extended Reminders into a fully licensed version.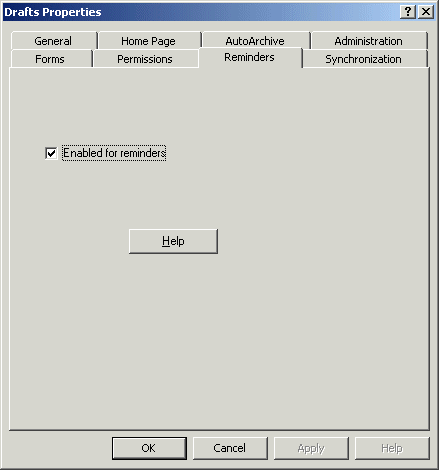 Extended Reminders Folder Property Page
Individual folders can also be enabled or disabled for reminders by using the Reminders property pages for those folders. To display the Reminders folder property page select the desired folder in the Folder List or the Outlook Bar, right-click on the folder, select Properties and then going to the Reminders tab. Checking or unchecking the "Enabled for reminders" checkbox enables or disables the folder for reminders.
Latest Version: 1.3.7